Introduce of PIPE FLOAT
The full of PE floater is made from polyethylene material with excellent flexibility, filled with high strength polyurethane foam inside. With reasonable structure and good performance, the MDPE floater becomes the ideal substitution of the traditional steel floater for the floating dredging pipes.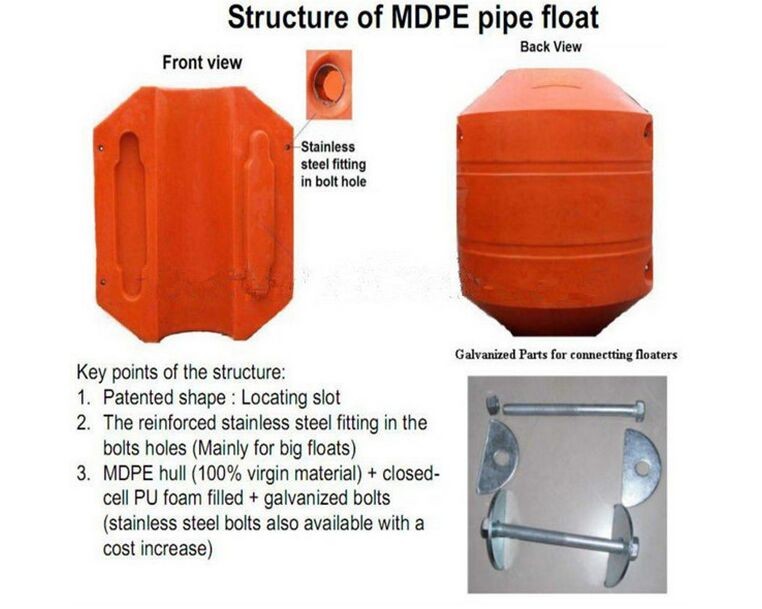 The characteristics of pipe float:
1. The pipe float have lower pressure ,with reasonable energy absorption;
2. When the ship berthing alongside, the float has extensive adaptability to the ships rolling and pitching;
3. With lower density, it is convenient to install and maintenance;
4. it has widely application, and does not being affected by the small or big ship;
5. With highly impact resistance, anti-abrasion, it wont aging in natural conditions, rather economic and durable.
Note: two pairs of floats form one group, and two pieces form one pair. One group float can float 6 meters long dredging hose.
Technical Data
Structure of Floater for Dredging Pipe

No.

Structure Name

Material

1

Polyethylene Hull

Polyethylene

2

Hard Polyurethane Foam

Closed-cell Polyureshane

3

Steel Bolts & Nuts

Metal
Main Technical Properties

Item

Technical Index of Hull

Item

Inside Technical Index

Tensile Strength

≥13.1MPa

Water Absorption

1-2g/100cm2

Bteak Elingation

≥11.1%

Breaking Strength

0.08-0.1MPa

Impact Strength

≥32.4KJ/m2

Breaking Elingation

4-6%

Bending Strength

≥15.7 MPa

Compressive Strength

0.1-0.24MPa

Weather Resistance≥3.5GJ/m2

After tital aging energy≥3.5GJ/m2

Break Elingation %≥

10

200°Cmm≥

Oxidative Induction Time 200°Cmm≥

10